If you're looking for an executive sedan that makes a statement, then you've undoubtedly considered the Porsche Panamera and the Tesla Model S. Both exude breathtaking style, cutting-edge technology, and uncompromising comfort. So which one is right for your unique lifestyle? To help you choose between these world-class automobiles, the experts at Beverly Hills Porsche have compared the key features of the 2018 Porsche Panamera and the 2018 Tesla Model S.
For the purpose of this comparison, we've taken a closer look at the Porsche Panamera 4S, starting at $103,000 MSRP, and the Tesla Model S 100D, starting at $94,000 MSRP. If you have any inquiries for our representatives, please call us directly at (855) 642-7097 or contact us online.
Porsche Panamera vs. Tesla Model S: Engine Specs & Performance
While the Porsche Panamera and Tesla Model S are similar in design, they are entirely different when it comes to performance. While some are impressed with the electric powertrain found in the Model S, the Porsche Panamera comes with an essential component the Tesla doesn't: motorsports pedigree. Every Panamera comes infused with proven Porsche heritage and provides a truly thrilling driving experience.
| | | |
| --- | --- | --- |
| Porsche Panamera 4S | Model | Tesla Model S 100D |
| 4.0L Twin-Turbocharged V6 Engine | Powertrain | Dual-motor electric drive with 100 kWh battery |
| 440 HP | Horsepower | 417 HP |
| 4.0 seconds | 0-60 MPH Acceleration | 4.1 seconds |
| 179 MPH | Top Speed | 155 MPH |
| Over 650 Miles | Range | 335 Miles |
| 19 | 24 Hours of Le Mans Wins | 0 |
Porsche Panamera vs. Tesla Model S: Interior Features
Featuring the latest in connectivity and comfort, the Porsche Panamera keeps even the most discerning drivers content and connected at all times. While the Tesla Model S features a unique minimalist design, the Porsche Panamera is equipped with true luxury features the our clients prefer. The Model S is simply not as refined as the Porsche Panamera, especially in its cabin. There is a long list of features you will only find on Porsche Panamera models, including:
Available 18-way adaptive sports seats
Four-zone climate control
Genuine wood, carbon fiber, or aluminum interior trim
Leather or Alcantara® upholstery
Optional Burmester® 21-speaker 3D High-end Surround Sound System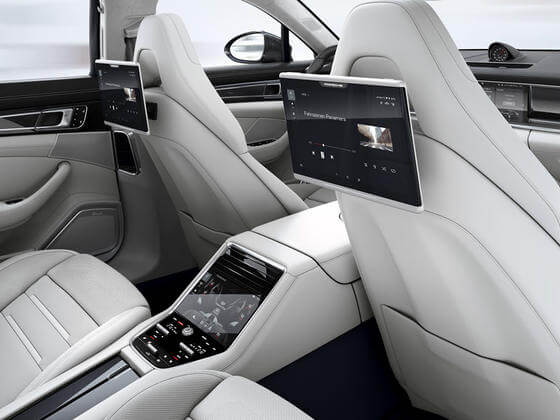 Porsche Panamera vs. Tesla Model S: Design
If you're planning on making an impression while cruising the streets of Los Angeles, CA, then the Porsche Panamera is the clear choice over the Tesla Model S. While the Tesla Model S is only available in five colors and one wheel design, the Porsche Panamera is available with your choice of sixteen paint options and eight different wheel designs.
Much like the exterior, the interior of your Porsche Panamera can be customized down to the most specific details. And while the Tesla Model S comes with cloth upholstery with some leather accents, the Porsche Panamera only offers the highest-quality leather and Alcantara® in fifteen color combinations.
Finance or Lease a New Porsche Panamera in Los Angeles, CA
Now that you know the new Porsche Panamera offers the superior performance, elegant interior, and inspiring design you require from your next luxury sedan, it's time to take yours home from Beverly Hills Porsche. Get in touch with the brand ambassadors at our Porsche dealership in Los Angeles, CA, by calling (855) 642-7097 or reach out through our online contact form. Our team of Porsche professionals will help you take home your favorite Panamera from our curated inventory.